Popular Idaho Hotels
Motels, Inns, Resorts
You are here:
United States >> Idaho Hotels
Who wants to live in Idaho? It's a beautiful state, and their lakes are crystal clear and cold. When we drove through Idaho we were amazed at the beauty. I just couldn't stop taking pictures. We followed Interstate 90 through the mountains, and stayed in a cute little scenic town called Wallace. We stayed at the Wallace Inn. Very nice, and highly recommend! We also enjoyed visiting Coeur d'Alene. That is a real recreational, touristy place.
Below is a list of popular hotels in Idaho. Not only are these hotels popular, they are also beautiful, and a great place to relax, unwind or go on vacation.
The cities are in alphabetical order, and there's a link to the reservation pages, where you can find out all kinds of information, like the hotel locations, a map, directions, and see pictures of the most popular hotels, inns, suites, motels and resorts.
Related pages: Idaho Jacuzzi Hotels, Idaho Map
Popular Idaho Hotels and Motels
Click here to sort Idaho motels by city and compare rates and availability
A - B - C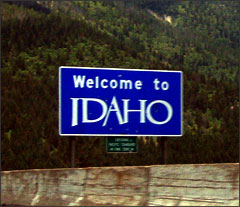 Blackfoot Idaho
- Blackfoot Hotels
-Best Western Blackfoot Inn 750 Jensen Grove Drive Blackfoot, ID
-Super 8 Motel Of Blackfoot 1279 Parkway Drive Blackfoot, ID
Boise Idaho
- Boise Hotels
-Best Western Vista Inn At The Airport 2645 Airport Way Boise, ID
-Best Western Northwest Lodge 6989 Federal Way Boise, ID
-Best Western Airport Inn 2660 Airport Way Boise, ID
-Sleep Inn Boise 2799 Airport Way Boise, ID
-Econo Lodge Boise 4060 W. Fairview Ave. Boise, ID
-Boise Super 8 Motel 2773 Elder Street Boise, ID
-Red Lion Hotel Boise Downtowner 1800 Fairview Avenue Boise, ID
-Courtyard By Marriott Boise 222 South Broadway Avenue Boise, ID
-SpringHill Suites by Marriott Boise ParkCenter 424 East Parkcenter Boulevard Boise, ID
-Holiday Inn Express Boise, Id 2613 S. Vista Ave. Boise, ID
-Amerisuites Boise Town Square Mall 925 N Milwaukee St Boise, ID
-Holiday Inn Boise-Airport, Id 3300 Vista Ave. Boise, ID
-Comfort Suites Airport 2906 Vista Avenue Boise, ID
-Rodeway Inn Boise 1115 N. Curtis Rd. Boise, ID
-Ameritel Inn Boise Spectrum 7499 W Overland Boise, ID
-Comfort Inn Airport 2526 Airport Way Boise, ID
-Ameritel Inn Boise Towne Square 7965 West Emerald Boise, ID
-Oxford Suites Boise 1426 S. Entertainment Ave Boise, ID
-Residence Inn By Marriott Boise 1401 Lusk Avenue Boise, ID
-Residence Inn by Marriott Boise West 7303 West Denton Street Boise, ID
-Safari Inn Downtown Boise 1070 W. Grove Street Boise, ID
-Fairfield Inn By Marriott Boise 3300 South Shoshone Street Boise, ID
-Owyhee Plaza Hotel 1109 Main St Boise, ID
-Budget Host Inn Boise 8002 Overland Road Boise, ID
-Inn America - Boise 2275 AIRPORT WAY Boise, ID
-University Inn 2360 University Drive Boise, ID
-Statehouse Inn 981 Grove Street Boise, ID
-Red Lion Parkcenter Suites 424 East ParKCenter Blvd. Boise, ID
Bonners Ferry Idaho
- Bonners Ferry Hotels
-Best Western Kootenai River Inn and Casino 7169 Plaza Street Bonners Ferry, ID
Burley Idaho
- Burley Hotels
-Best Western Burley Inn and Convention Center 800 North Overland Avenue Burley, ID
Caldwell Idaho
- Caldwell Hotels
-Best Western Caldwell Inn and Suites 908 Specht Avenue Caldwell, ID
-La Quinta Inn Caldwell 901 Specht Avenue Caldwell, ID
Cascade, ID
- Cascade, ID
-Ashley Inn 500 North Main Street Cascade, ID
Coeur d'Alene Idaho
- Coeur d'Alene Hotels
-Best Western Coeur d'Alene Inn 414 West Appleway Coeur d'Alene, ID
-La Quinta Inn And Suites Coeur d' Alene 2209 E Sherman Ave Coeur d'Alene, ID
-La Quinta Inn Coeur d'Alene 280 W. Appleway Coeur d'Alene, ID
-Coeur d' Alene Super 8 Motel 505 West Appleway Coeur d'Alene, ID
-Coeur d'Alene-Days Inn 2200 Northwest Boulevard Coeur d'Alene, ID
-Fairfield Inn By Marriott Coeur d'Alene 2303 North 4th Street Coeur d'Alene, ID
-Ameritel Inn Coeur D Alene 333 Ironwood Drive Coeur d'Alene, ID
-Silver Lake Motel 6160 Sunshine Street Coeur d'Alene, ID
D - E - F
Driggs Idaho - Driggs Hotels
-Best Western Teton West 476 North Main Driggs, ID
-Shadow Brook/Powder Valley Townhouses Ski Hill Rd Driggs, ID
-Powder Valley Condominiums 30 Powder Valley Drive Driggs, ID
-Grand Targhee Vacation Homes 275 East Ski Hill Road Driggs, ID
-Super 8 Motel - Driggs 133 State Hwy 33 Driggs, ID
G - H - I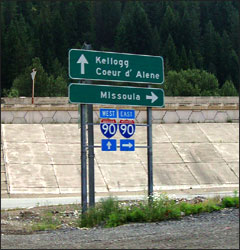 Hayden Idaho - Hayden Hotels
-Super 8 Motel - Heyburn/ Burley Area 336 S. 600 West Heyburn, ID
Idaho Falls Idaho - Idaho Falls Hotels
-Best Western Cottontree Inn 900 Lindsay Boulevard Idaho Falls, ID
-Best Western Driftwood Inn 575 River Parkway Idaho Falls, ID
-Idaho Falls Super 8 Motel 705 Lindsay Boulevard Idaho Falls, ID
-Red Lion Hotel On The Falls 475 River Parkway Idaho Falls, ID
-Holiday Inn Express Hotel and Suites Idaho Falls, Id 2270 Channing Way Idaho Falls, ID
-Comfort Inn Idaho Falls 195 S. Colorado Ave. Idaho Falls, ID
-Ameritel Inn Idaho Falls 645 Lindsay Blvd Idaho Falls, ID
-Idaho Falls Days Inn 700 Lindsay Blvd. Idaho Falls, ID
-Le Ritz Hotel And Suites 720 Lindsay Blvd Idaho Falls, ID
-Ameritel Inn Idaho Falls Spectrum 2501 S 25th Idaho Falls, ID
-Fairfield Inn And Suites By Marriott Idaho Falls 1293 West Broadway Idaho Falls, ID
-Littletree Inn 888 North Holmes Idaho Falls, ID
Island Park Idaho - Island Park Hotels
-Island Park Village Resort Highway 20 and Big Springs Road Island Park, ID
J - K - L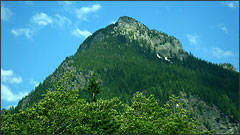 Jerome Idaho - Jerome Hotels
-Best Western Sawtooth Inn and Suites 2653 South Lincoln Jerome, ID
-Jerome Days Inn 1200 Centennial Spur Jerome, ID
Kellogg Idaho - Kellogg Hotels
-Baymont Inn and Suites Kellogg 601 Bunker Ave Kellogg, ID
Ketchum Idaho - Ketchum Hotels
-Clarion Inn Ketchum 600 Main St. Ketchum, ID
-Sun Valley Neighborhood 333 South Main Street Ketchum, ID
-Sun Valley Warm Springs 333 South Main Street Ketchum, ID
-Sun Valley Elkhorn 333 South Main Street Ketchum, ID
-Best Western Kentwood Lodge 180 South Main Street Ketchum, ID
-Best Western Tyrolean Lodge 260 Cottonwood Ketchum, ID
-Sun Valley Ketchum - River Run 333 South Main Street Ketchum, ID
Lewiston Idaho - Lewiston Hotels
-Lewiston Super 8 Motel 3120 North and South Hwy Lewiston, ID
-Holiday Inn Express Lewiston, Id 2425 Nez Perce Drive Lewiston, ID
-Comfort Inn Lewiston 2128 8th Ave Lewiston, ID
-Red Lion Hotel Lewiston 621 21ST STREET Lewiston, ID
-Howard Johnson Express Inn Lewiston 1716 Main St. Lewiston, ID
-Inn America - Lewiston 702 21st Street Lewiston, ID
-Econo Lodge Lewiston 1021 Main Street Lewiston, ID
M - N - O
Mccall Idaho - Mccall Hotels
-Mccall Super 8 Lodge 303 South 3rd Street Mccall, ID
-Best Western Mccall 415 3rd Street Mccall, ID
Meridian Idaho - Meridian Hotels
-Best Western Rama Inn 1019 South Progres Avenue Meridian, ID
-Holiday Inn Express Hotel and Suites Meridian, Id 800 S ALLEN RD Meridian, ID
-Comfort Suites Meridian 2610 East Freeway Drive Meridian, ID
-Mr Sandman Inn And Suites 1575 South Meridian Road Meridian, ID
Montpelier Idaho - Montpelier Hotels
-Best Western Clover Creek Inn 243 North 4th Street Montpelier, ID
-SUPER 8 MOTEL - MONTPELIER 276 N. Fourth St. Montpelier, ID
Moscow Idaho - Moscow Hotels
-Super 8 Motel - Moscow 175 Peterson Drive Moscow, ID
-Best Western University Inn 1516 Pullman Road Moscow, ID
Mountain Home Idaho - Mountain Home Hotels
-Best Western Foothills Motor Inn 1080 Highway 20 Mountain Home, ID
-Sleep Inn Mountain Home 1180 US 20 Mountain Home, ID
Nampa Idaho - Nampa Hotels
-Days Inn Nampa 130 Shannon Drive Nampa, ID
-Nampa Super 8 Motel 624 Nampa Boulevard Nampa, ID
-Sleep Inn Nampa 1315 Industrial Rd. Nampa, ID
Orofino Idaho - Orofino Hotels
-Best Western Lodge At River's Edge 615 Main Street Orofino, ID
P - Q - R
Pocatello Idaho - Pocatello Hotels
-Comfort Inn Pocatello 1333 Bench Rd. Pocatello, ID
-Best Western Cottontree Inn 1415 Bench Road Pocatello, ID
Post Falls Idaho - Post Falls Hotels
-Post Falls Howard Johnson Express Inn W. 3705 5th Ave. Post Falls, ID
-Sleep Inn Post Falls 100 N. Pleasant View Rd. Post Falls, ID
-Comfort Inn Post Falls 3175 E. Seltice Way Post Falls, ID
-Red Lion Templins Hotel On The River 414 First Avenue Post Falls, ID
-Riverbend Inn 4105 W Riverbend Ave Post Falls, ID
Rexburg Idaho - Rexburg Hotels
-Comfort Inn Rexburg 1565 W. Main St. Rexburg, ID
-Best Western Cottontree Inn 450 West 4th South Rexburg, ID
-Rexburg-Days Inn 271 S. 2nd West Rexburg, ID
-Super 8 Motel - Rexburg 215 West Main St. Rexburg, ID
Riggins Idaho - Riggins Hotels
-Best Western Salmon Rapids Lodge 1010 South Main Street Riggins, ID
S - T - U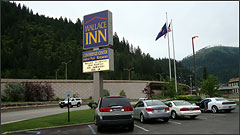 Salmon Idaho - Salmon Hotels
-Super 8 Motel - Salmon 104 Courthouse Drive Salmon, ID
Sandpoint Idaho - Sandpoint Hotels
-Best Western Edgewater Resort 56 Bridge Street Sandpoint, ID
-La Quinta Inn Sandpoint 415 Cedar Street Sandpoint, ID
-Sandpoint Super 8 Motel 476841 Hwy 95 North Sandpoint, ID
-White Pine Logde, A Red Lion Hotel 10000 Schweitzer Mountain Rd Sandpoint, ID
-The Selkirk Lodge, A Red Lion Hotel 10000 Schweitzer Mountain Road Sandpoint, ID
-United States Quality Inn Sandpoint 807 N. 5th Ave. Sandpoint, ID
-Inn At Sand Creek 105 South First Avenue Sandpoint, ID
Swan Valley Idaho - Swan Valley Hotels
Tetonia Idaho - Tetonia Hotels
-Teton Mountain View Lodge 510 Egbert Avenue Tetonia, ID
Twin Falls Idaho - Twin Falls Hotels
-Best Western Apollo Motor Inn 296 Addison Avenue West Twin Falls, ID
-Super 8 Motel - Twin Falls 1260 Blue Lake Blvd. Twin Falls, ID
-Red Lion Canyon Spring Hotel 1357 Blu Lakes Blvd North Twin Falls, ID
-Holiday Inn Express Hotel and Suites Twin Falls, Id 1910 Fillmore Street North Twin Falls, ID
-Comfort Inn Twin Falls 1893 Canyon Springs Rd. Twin Falls, ID
-Ameritel Inn Twin Falls 1377 Blue Lakes Blvd North Twin Falls, ID
V - W - Y - Z
Wallace Idaho
- Wallace Hotels
-
Wallace Inn
(formerly Best Western) 100 Front Street Wallace, ID
-Stardust Motel 410 Pine Street Wallace, ID

---