Wisconsin Hotels with Jacuzzis
You are here:
United States >> Wisconsin Hotels >> Jacuzzi Suites
If you are looking for a hotel with a jacuzzi or jacuzzi suite, check to see if their is a Super 8 Motel in your area. Super 8 Motels seem to have more jacuzzis than any other hotel chain that we've come across.
WI Hotels with Jacuzzi's List
Click here to search for another city
-Chetek WI Super 8 Motel - Chetek 115 2nd St. Overlooks the Chetek River. The Chetek Super 8 has spacious guest rooms in a "back to the woods" feel. All of the rooms include wireless high speed internet, hair dryers and complimentary continental breakfast. Enjoy an oversized Jacuzzi Suite, featuring all of the standard amenities plus a whirlpool.
-Chippewa Falls WI Park Inn Chippewa Falls 1009 West Park Ave - Hotel offers 52 guestrooms, business studio suites, jacuzzi suites and is connected to a conference center with accommodations for up to 500 people. Complimentary high speed and wireless internet available. Close to shopping, entertainment and several area attractions. Located within 5 miles from Chippewa Valley Regional Airport.
-Green Bay WI Green Bay Super 8 Motel 2868 S. Oneida St. Relax in the Jacuzzi or Sauna.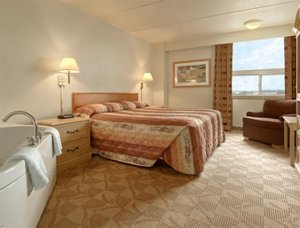 -Green Bay WI Ramada Inn 2750 Ramada Way Ramada Plaza Hotel and Water Park features three pools, two water slides, whirlpool, sauna, and exercise room. In room jacuzzi.
-Hayward WI Hayward Super 8 Motel 10444 North State Highway 27 Super Start Plus Breakfast 45 rooms 2 blocks to downtown Snowmobile from door Scheers Lumberjack Show and mini-golf 3 blocks Mt. Telemark ski area 20 miles La Court Oreillis Casino 4 miles In room jacuzzis Indoor pool.
-La Crosse WI La Crosse - Days Inn & Conference Center 101 Sky Harbour Drive 5 Sunburst Hotel Full service hotel with 146 spacious guestrooms 4 Jacuzzi Suites Adams Rib Restaurant & Lounge on property Free High-Speed Wireless Internet Access Large Indoor Heated Pool & Whirlpool Fitness Room Pet Friendly Member of Circle Wisconsin Seven Meeting & Banquet Rooms Cable TV with HBO 24-Hour Front Desk Located Near Airport 1-90, Exit 2 They do not accept personal checks.
-Middleton WI Country Inn & Suites By Carlson, Madison West 2212 Deming Way Includes an indoor heated pool, Jacuzzi and an exercise room. The property also offers complimentary High Speed internet access. Take Highway 12/18 West to University Ave Exit (Highway 14 West). Turn West onto University Ave to Deming Way. Turn North to proceed to property.
-Platteville WI Super 8 Motel - Platteville 100 Hwy 80-81 South The Super 8 Platteville is conveniently located at the intersection of Hwys 80/81 & Business 151, just 20 mi from Galena, 1 mi from the UW-Platteville campus, and 20 mi from Dubuque, IA. The motel features free High Speed Wireless Internet, free SuperStart breakfast, sauna, and jacuzzi.
-Pleasant Prairie WI Radisson Hotel & Conference Center Kenosha 11800 108TH St. Located midway between Chicago and Milwaukee, just off Interstate 94, in LakeView Corporate Park. 120 elegantly appointed rooms including one bedroom suites and jacuzzi suites. State of the art fitness center, indoor pool, and whirlpool. Hotel is in downtown Kenosha near Highway 165 Easy access off I-94 and Hwy 165 E. Exit 347. Go east at the exit and take a right at the east frontage Rd. to the hotel.

---